Various inbox zero tips and tricks are now available for anybody who wants to achieve inbox zero. But in our busy lives, it can be quite difficult to put in the accent effort and time to take your inbox to zero. This is where email management software can come to our rescue. Our favorite inbox zero app is Mailmanhq, primarily because of its effectiveness and simplicity. In this article, we go through an inbox zero tutorial to see and use how Mailmanhq can help us to achieve inbox zero.
How to use Mailmanhq?- A Inbox zero tutorial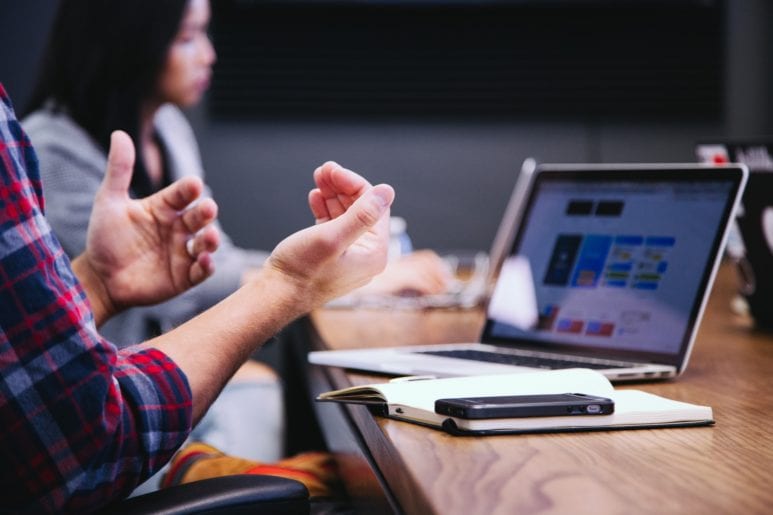 The email management software Mailmanhq can help you take your inbox to zero. Here are the simple steps to use Mailmanhq according to our inbox zero tutorial.
How do I join Mailmanhq?
As easy as Mailmanhq is to use, it is even easier to start with using this inbox zero tutorial. In a matter of seconds, you can experience email management with the best email management software, Mailmanhq: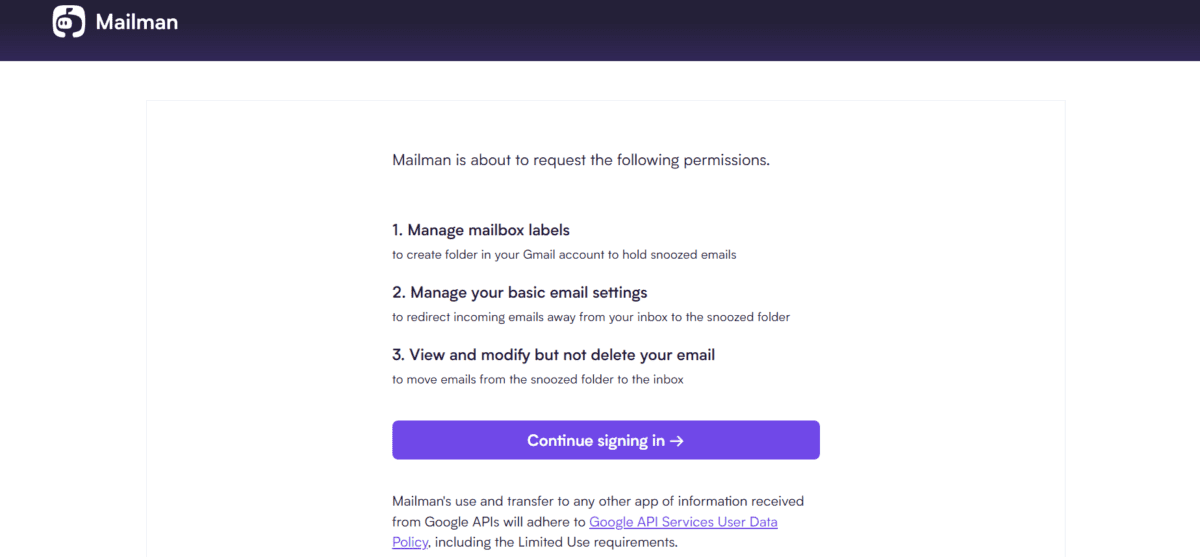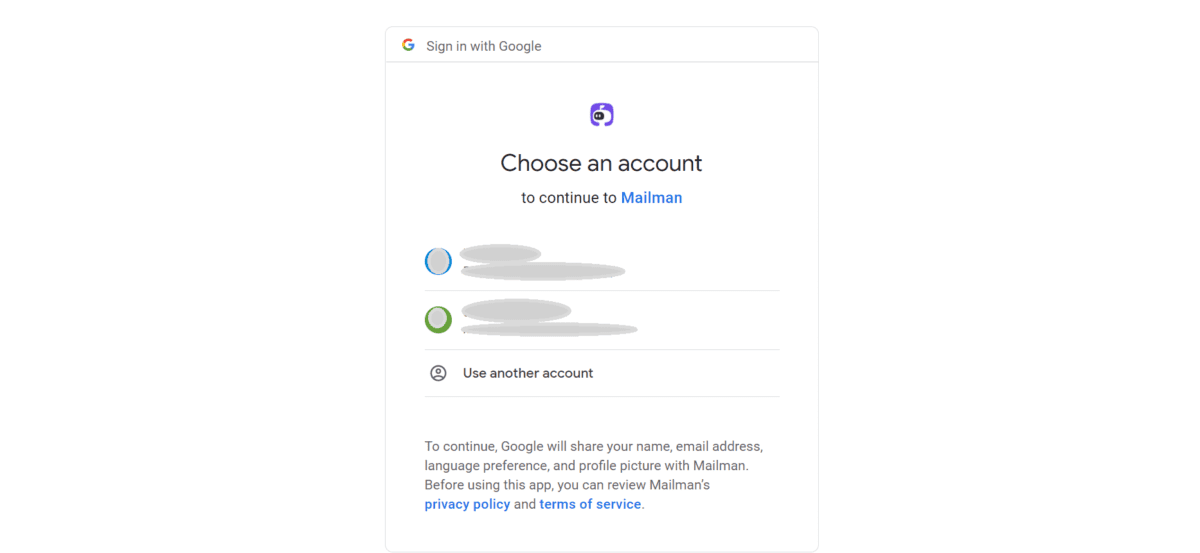 Visit Mailmanhq's official website here
Select 'Sign in with Google'.
Mailmanhq then places a disclaimer that it will soon ask for permission to Manage mailbox labels, Manage your basic email settings and View and modify but not delete your email.
Select 'Continue signing in'.
Sign in to your Google account.
You are all set to use Mailmanhq!
What can Mailmanhq access in this inbox zero tutorial?
In this inbox zero tutorial, the next step is to choose what Mailmanhq can access. The options include:
Associate you with your personal info on Google
See your personal info, including any personal info you've made publicly available
Your primary Google Account email address
See and edit your email labels.
See, edit, create, or change your email settings and filters in Gmail.
Read, compose, and send emails from your Gmail account.
Select the desired options, then click 'Continue' to go to the next step.
How can Mailmanhq help me with my email problems?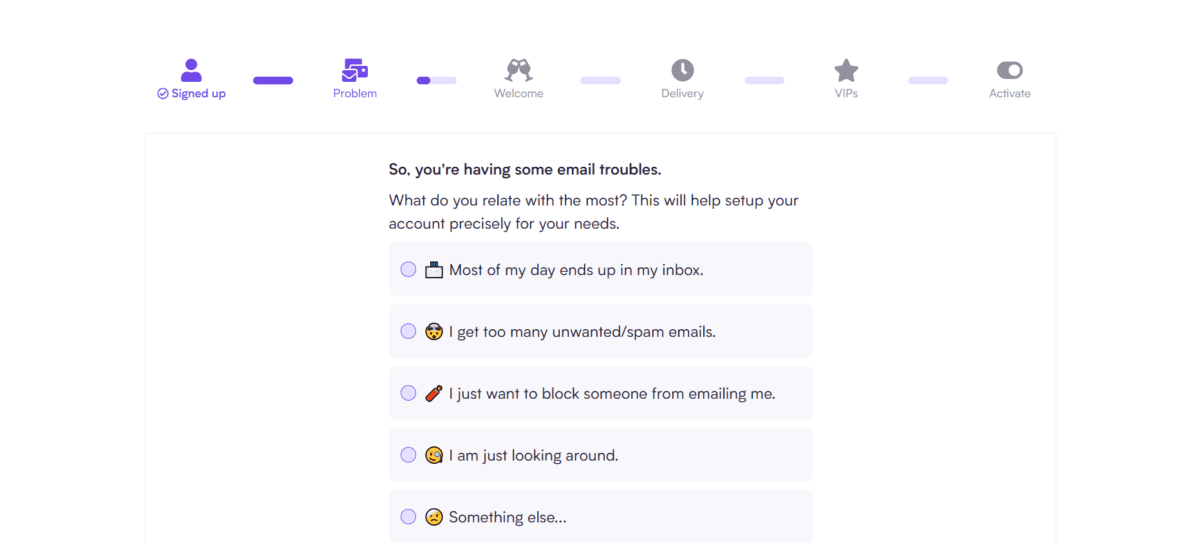 In this next step of this inbox zero tutorial, Mailmanhq asks us our primary email issue. Depending on our problem, a suitable inbox zero solution is chosen. The problems to choose from include:
Most of my day ends up in my inbox.
I get too many unwanted/spam emails.
Just want to block someone from emailing me.
I am just looking around.
Something else…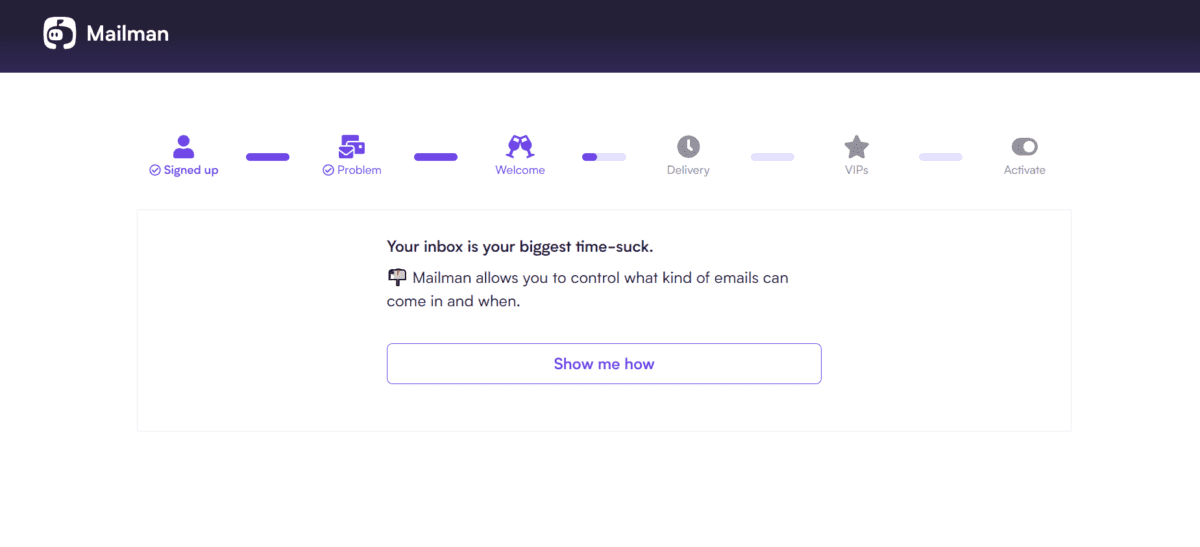 Now, select 'Show me How' to see the Mailmanhq inbox advice for you.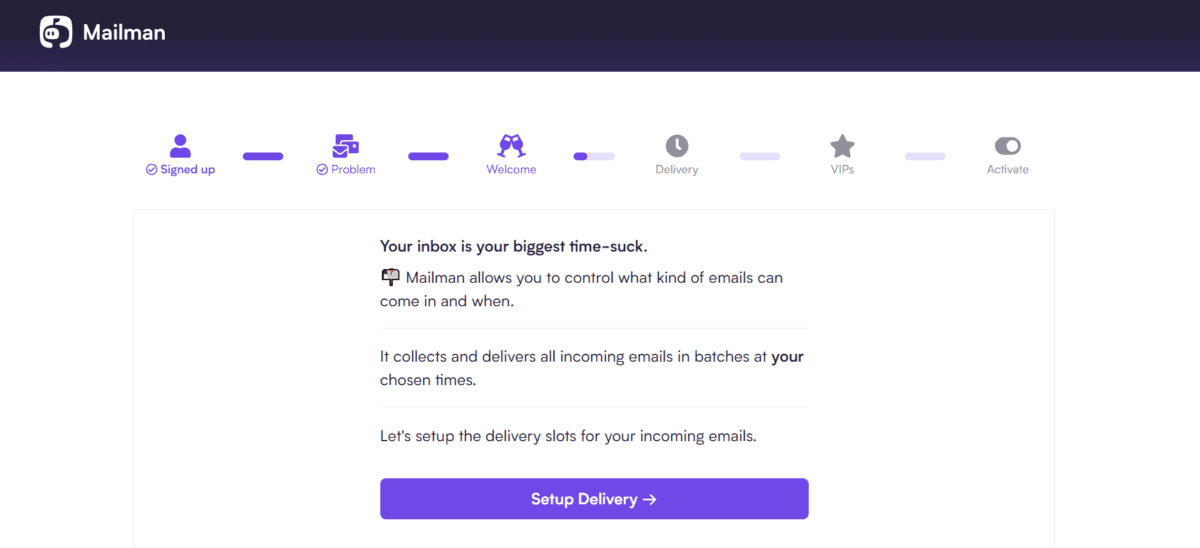 For example, for the problem 'I get too many unwanted/spam emails', the solution given in this inbox zero tutorial is:
Mailman allows you to control what kind of emails can come in and when.
It collects and delivers all incoming emails in batches at your chosen times.
Let's setup the delivery slots for your incoming emails.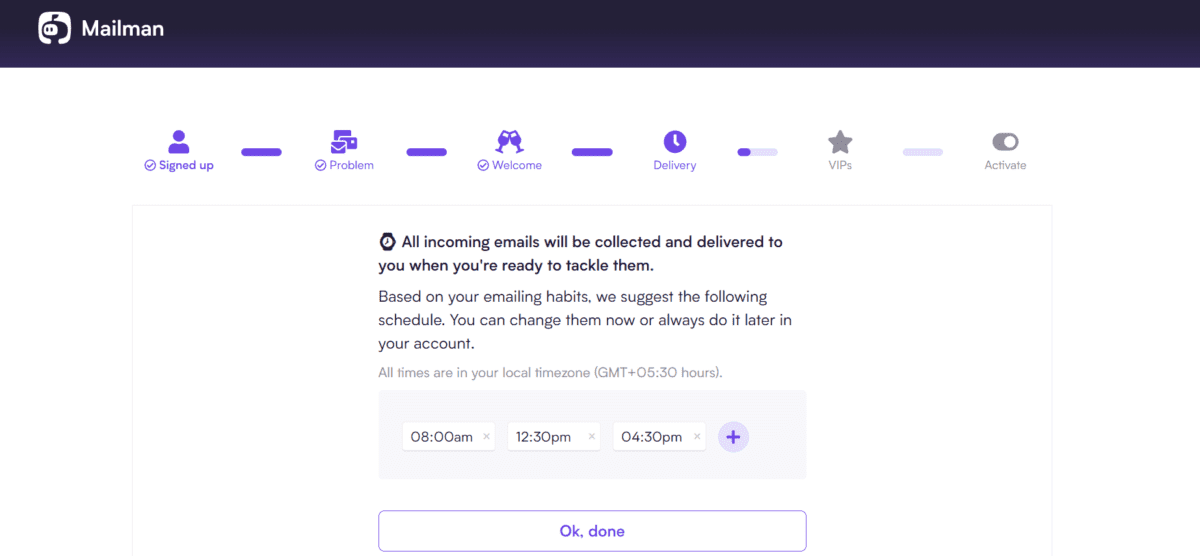 From here on in the inbox zero tutorial, Mailmanhq shows you the various features it has that help it handle too many emails and lead your inbox to zero.
How does Mailmanhq take your inbox to zero?
Mailmanhq promises to take our inbox to zero using the above inbox zero tutorial. Here are the particular features that help you achieve inbox zero.
1. Do Not Disturb Mode
The Do Not Disturb mode lets you schedule time periods in which you would prefer to not receive any email notifications. In these time windows, you can concentrate better on the task at hand, while achieving better productivity. This also helps with time management as you get more tasks done in a shorter time. You will still not miss out on any important emails as you can access your email software after the set time period. This email management tool is an essential part of this inbox zero tutorial.
2. Delivery Slots
Mailmanhq allows you to decide delivery slots for your emails. This means that you can schedule certain time slots wherein you would like to receive your emails. These time slots could recur hourly throughout the day, as per your convenience. You can also decide the number of delivery slots you wish to have in a day using this inbox zero tutorial. Thus Mailmanhq allows you to manage your emails at your comfort without compromising on productivity. This feature is yet another reason why we consider Mailmanhq the best email management software.
3. Block Unimportant Emails using this inbox zero tutorial
Mailmanhq stringently filters and blocks emails that contain newsletters and similar spam. It also blocks emails from senders that you haven't interacted with before. Various email management softwares provide this facility, but Mailmanhq takes it a step further. It provides to you a digest of these blocked emails once a day. This makes sure that any important emails are not mistakenly locked by the email management software.
4. The VIP List
With the settings of Do not Disturb and Delivery Slots in place, Mailmanhq understands that there always will be emails that you would want to see immediately. These emails could be important for their urgency, or for an immediate deliverable or from an important sender. As your need be, this email management software keeps track of important emails by a VIP list.
Mailmanhq allows you to add certain important senders, domains or keywords to a VIP list using this inbox zero tutorial. This list makes sure that emails containing information mentioned in the VIP list, can bypass all settings and filters. Thus no matter any prior setting made for better email management, these urgent emails will always find you immediately. This also makes sure that you can focus better on your work while you rest assured that no important emails will be missed.
Let this inbox zero tutorial guide you to better email management
Email management can be difficult especially because of the time and effort required due to the too many emails that we receive. But email management software like Mailmanhq can easily take your inbox to zero with minimal effort and great ease.
FAQs
How do I zero my email inbox?
1. Delete all unimportant emails- mainly newsletters and spam.
2. File your emails in different folders to handle them better.
3. Respond to emails that you can reply to under a minute immediately.
4. Set regular schedule to process your emails.
How do I make my Gmail inbox zero?
1. Categorize your emails as a preset
2. If an email involves a task that can be achieved in no time at all, just do it, archive the mail and move on.
3. Set a day's time to respond to any email to make sure you don't carry over more than is necessary.
4. Don't be afraid to delegate.
5. Once you've got what you need out of an email, delete it.
How do I delete thousands of emails at once?
1. To "clean your inbox" you should start to unsubscribe from all the unimportant emails.
2. Use labels to mark emails as per their use.
3. Also, you can clear out the rubbish from your inbox by selecting emails at once and hitting the delete button.
4. You can use filters to automatically avoid unnecessary emails from piling up in your inbox. 
How can I create folder in Gmail?
1. Click the Settings icon in the Gmail Inbox.
2. Go to the Labels tab.
3. At the bottom, click Create New Label.
4. Name the label.
5. Click Save.