The pandemic hit us a long time ago and shut off many businesses' operations. However, Many enterprises moved from office to work from home. The employees began working remotely. As beneficial it seems in the times of global pandemic, there were many challenges. The significant one is- Collaboration and Team Management. Companies find it arduous to collaborate with employees and manage projects and the team itself. So, Today we have compiled a list of the top 5 online collaboration tools for remote working.
Top 5 Online Collaboration Tools for Project Management
Online Collaboration tools enable employees to work together from any part of the world. They help in smooth business operation and streamline workflow. They improve the efficiency and productivity of a business organization. After all, The team members built the company.
These recommended applications offer multiple features, privacy, cloud-based technology, and integration compatibility. Here are our top 5 picks.
1. Chanty
Chanty is a team communication tool. It is a chat application. Communication of ideas, projects is essential in a team. A lack of effective communication can affect a business. It can reduce overall labor productivity. Hence, having a dedicated platform for communicating business ideas is a necessity for every team.
Chanty is a secure business messenger that aims to improve teamwork via effective communication. Messages are easy to convert into an assigned task for anyone to start a dedicated conversation. Send a message, leave a voice message or call with the help of the app. It allows real-time chat and discussion threads with a dedicated news feed for the crew. Connect to other apps like -GitLab, Trello, One Drive, Google Drive easily with this online collaboration tools.
2. Google Workspace
Google Workspace is an app curated for remote-working team management. We all use google and are familiar with its products as well. With the security and sophistication of Google, Team collaboration and Team management are easy and efficient.
Google Workspace is an online collaboration tools. It enables communication, sharing, storing, coordinating, editing, and customizing your business operations and organizing team members. All the google applications all integrated into one interface to streamline a work environment. It includes collaboration tools like Gmail, Calendar, Meet, Chat, Drive, Docs, Sheets, Slides, Forms, Sites, and more.
All plans feature a free 14-day trial, so you can try Google Workspace before signing up.
3. Monday.com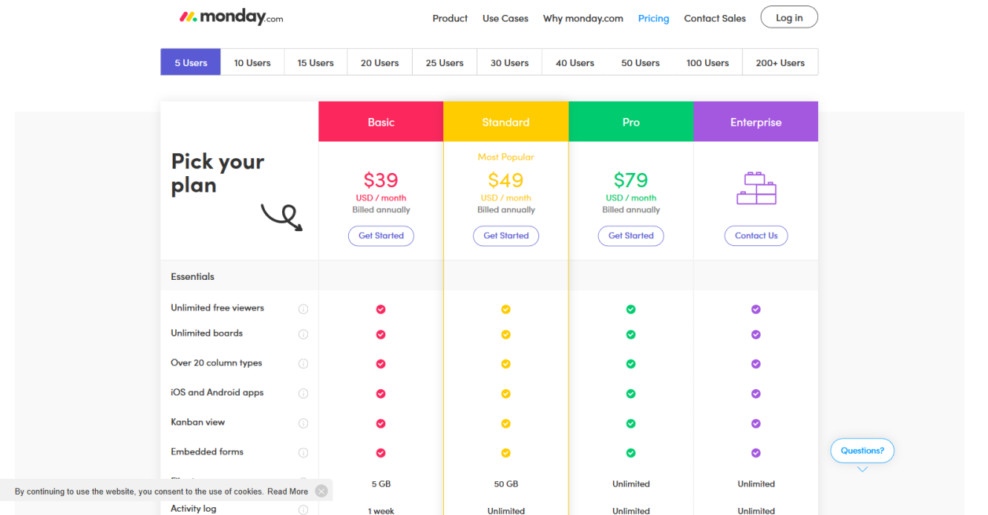 Monday.com is a Work Management and Team Collaboration Tool. A company needs to streamline its operations and team. An all-rounder platform that solves it all is necessary. A tool that creates a virtual workspace to manage, track and organize all the work is essential.
Monday.com is a team collaborator application that offers a virtual workspace platform to manage everything. It extends 200+ templates and an easy-to-use interface and provides Kanban, Calendar, Timeline, etc. It facilitates integration with 40+ apps such as Google Drive, Trello, LinkedIn, Dropbox, Shopify, Excel, et cetera. Monday.com stores a customized experience for the efficient team and work management as an online collaboration tools.
4. Proofhub
Proofhub is a team collaboration and project management software. One of the critical features of remote working is task allotment and team collaboration. Effective task planning, distribution, organization, and communication among the team are essential.
Proofhub is an online team collaboration & project management software. It features- Kanban Board, Gantt Charts, and a separate calendar. This tool eliminates long scattered conversation threads with a dedicated chat feature for each project. It has a simple and easy-to-understand interface. Also, it is an all-in-one online collaboration tools with all the tools required for effective team management.
5. Trello
Trello is a project organizer as an online collaboration tools. As a team, having tasks organized is essential. A business can increase productivity by efficient project management. However, often project management tools come with a hefty price tag. A Small team collaboration does not need an all-advanced project organizer. A software that is simple and effective is enough.
Trello is a project management tool. Though it is efficient for all businesses, it is best suited for a small team. It is a productivity booster app that is simple, flexible, and powerful. This toolmakes allotting, discussing and tracking tasks easy. It enables integration with Slack, Dropbox, Outlook, Gmail, Salesforce, InVision, Jira, and hundreds more. Also it facilitates the automation of work with the Butler feature. Trello is widely used and trusted for project management with the best Kanban Boards.
Choose the best online collaboration tools!
Online Collaboration tools are essential for work from home. All the applications mentioned above help you with team and project management. They all have a strong customer support base and a mobile application to keep the team updated all the time. These tools tackle remote working obstacles. They will improve employee productivity and task efficiency. Choosing the right tool will ease out working remotely. Depending upon your needs, enterprise size, and work nature, choose a tool to manage your team.
FAQs
What are the online collaborative tools?
Online Collaboration tools enable employees to work together from any part of the world. Some of them include:
1. Chanty
2. Google Workspace
3. Monday.com
4. Proofhub
5. Trello
What are the types of online collaboration?
1. Calendar sharing tools
2. File sharing tools
3. Instant messaging
4. Video-conferencing
5. Document synchronization
Is online collaboration safe?
Before you download any software online, you should do some research to verify that it not only provides the features you need but also that it is not compromised by malware.
What is the purpose of online collaboration?
Online collaboration helps in smooth business operation and streamline workflow. It also improves the efficiency and productivity of a business organization.