Emails are a vital communication link in a business environment. They are also simple, easy, affordable, and accessible. This makes email management a pressing priority. We hence need an email organizer for Gmail that works efficiently to handle our inboxes, strengthening our email management. Also using a functional email organizer can save up to 20 eight-hour workdays for a person.
What is Mailmanhq, the only email organizer for Gmail that works?
Mailmanhq is an email management software that keeps an eye on unimportant emails. This is done by minimizing interruptions and increasing productivity. Also as a Gmail-plugin, it works with all major email clients- Gmail and others. It is the only email organizer for Gmail that works most efficiently in managing our inboxes. Mailmanhq also provides varied features at reasonable prices.
Mailmanhq is hence an efficient email organizer with fewer ads and multiple account support. The interface is also clean and user-friendly for a beginner. It is an all-in-one email organizer that works skillfully. It also provides a 21-day free trial, with no credit card details required.
What makes Mailmanhq the best Email Organizer for Gmail?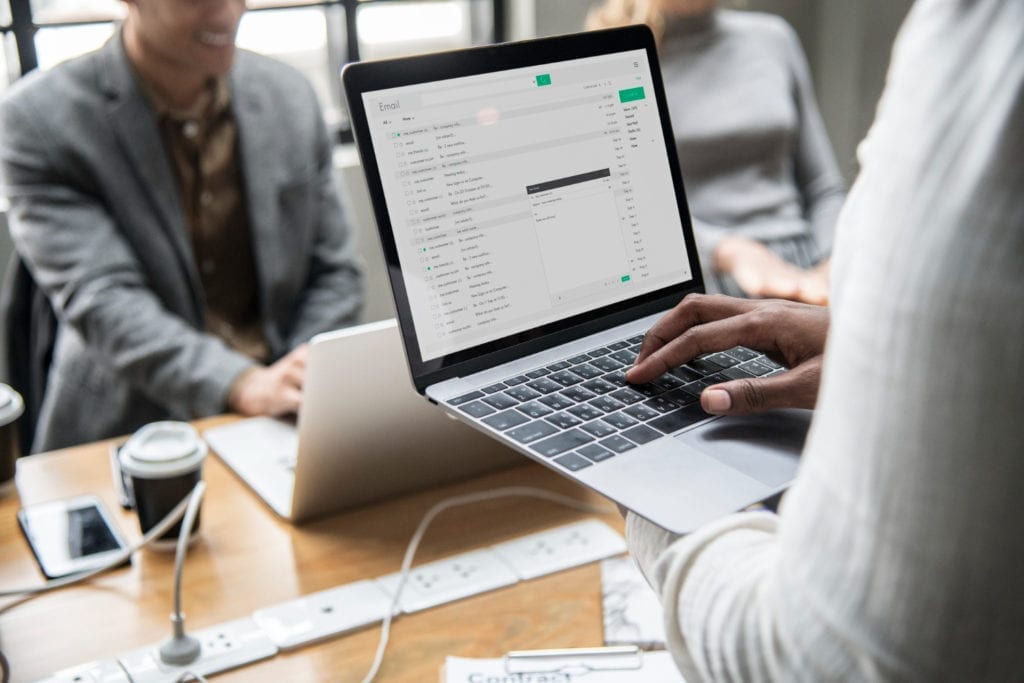 An efficient email organizer provides many benefits. Email organizers give a set of tools that help maintain zero inboxes, clean inboxes. It can also perform many tasks on its own after a basic setup. Here are some benefits that we should look for when getting an email organizer.
1. Increased productivity and time management
Of all the emails received, only 38% are relevant. Constant email alerts disrupt our focus, reducing productivity. A person who spends hours reading, reacting, and sorting mails throughout the day. An email organizer for gmail also efficiently performs repetitive tasks, reducing our burden. We focus on piles of too many emails in our Gmail inboxes instead of on our work. Email organizers can then help in increasing productivity and time management. Mailmanhq allows us to schedule a time slot to receive all our emails in one go. It also blocks any unwanted emails and increases productivity.
2. Security with the best email organizer for gmail
There are many threats with email leading to exposure of critical intellectual property and customer information. A business cannot afford to lose customer data or company secrets.
Email management systems provide a security level to protect sensitive data in our emails. Thus an organizer gives security features to secure a lot of sensitive data. Company data is confidential to us and hence needs due security. Mailmanhq is the only email organizer for gmail that provides safety without asking us to change anything. It also ensures minimum chances of being hacked. It is an effective email management app with fewer intrusions.
3. Multiple accounts handling
We all have separate Gmail accounts to segregate our emails from business emails. Apart from these, there are also many reasons people have multiple accounts. An email organizer for gmail can also shift from different email accounts into one interface. Then there's no need to sign in and out of email accounts again and again. Mailmanhq also supports multiple email accounts. Users can add multiple Gmail accounts and an online storage account. Therefore, one app is capable of managing all different email clients.
4. Customize with Mailmanhq
An email organizer is highly configurable in matching our desired work schedule. Gmail provides features to make changes to our inbox to personalize. An email organizer for Gmail gives an upper hand to these features by performing them for us. It prioritizes folders, creates signatures, and generates templates.
Mailmanhq allows us to fix a time slot to receive all our emails in one go. And also ensures that we enjoy silence outside of these time slots. It has a 'Delivery slot' feature that helps us custom email notifications and receives them twice or thrice a day.
5. Eliminate spam
We receive numerous emails that directly go into the spam folder. It is difficult to check through our spam every day. Gmail sometimes shifts the most crucial emails into spam. These important mails miss our attention and affect our business reputation. Email organizers sort emails as per our rules and also help us segregate emails efficiently. Mailmanhq blocks unimportant emails, providing a 'blocked email list.' This feature helps us efficiently manage inboxes without piling them. This email organizer for gmail provides us with a 'VIP list'. This feature allows us to slot our essential emails, senders' lists and easily access them.
6. Clean Interface
Gmail has folders, labels, and flags, featuring a clean and user-friendly interface. Gmail is compact, simple, and effective combined with an email organizer makes it more elegant, simple. Email organizer for Gmail like Mailmanhq has a friendly, clean User Interface that makes it easier to work with them. New users with limited technical backgrounds find them easy to learn and use daily. Mailmanhq interface is user-friendly. It sorts all the emails in a simplified manner, making them easy to use.
7. Reduce Clutter
The research found 87% of marketers use email campaigns to nurture their audiences. A variety of emails compose our mailboxes, informational (newsletters/ subscriptions) or junk. Only a small percentage of emails are crucial. Email organizers, organize and allow to focus on critical emails as and when required. This reduces our productivity and lowers time efficiency. Mailmanhq blocks unimportant emails and reduces the number of emails we flip through. Thus it serves the purpose of an ideal email organizer for Gmail.
Why do we need an Email Organizer for Gmail?
Managing your emails is key to achieving cleaner inboxes and desired productivity levels. Email organizers are software that organizes and handles emails. The best Email organizer for gmail can categorize, manage, and respond to a giant stack of inbound emails. Gmail itself has many features that simplify handling emails. However, repetitive and ineffectual tasks demand an email organizer for Gmail.
There are numerous email management software out of which only a few email organizers work. The cleanest, most efficient, and helpful organizer is MAILMANHQ. Mailmanhq offers many features at minimal prices, undoubtedly the only email organizer for Gmail.
Use the best email organizer for gmail for you!
Email organizers are essential to managing our nerve-wracking Gmail inboxes. The only email organizer for Gmail that works efficiently is Mailmanhq. It is the best email management software to organize multiple email accounts in one go with ease. Email management is impactful with the use of a tool that provides added assistance. Having a cluttered mailbox will reduce productivity and waste time. Hence, go ahead and get the best and only email organizer for Gmail that works most efficiently – Mailmanhq.
FAQs
How do I organize emails into folders in Gmail?
1. Click the Settings icon.
2. Go to the Labels tab.
3. At the bottom, click Create New Label.
4. Name the label.
5. Click Save.
How do I Auto organize emails in Gmail?
1. Open Gmail.
2. In the search box at the top, click the Down arrow .
3. Enter your search criteria.
4. At the bottom of the search window, click Create filter.
5. Choose what you'd like the filter to do.
6. Click Create filter.
What is the best email organizer?
Mailmanhq is the best email organizer followed by apps like Clean Mail, Proton Mail, Sortd.
How do I organize my Gmail labels?
Step 1: Create a label. Go to Settings (hint: the gear icon on the top right).
Step 2: Give your new label a color. Find your label's name on the left hand side of your Gmail inbox, and click the three dots. …
Step 3: Setup a filter to apply the label.